As we write this today, the friends and family of Brian Burden are together at Freeland Center mourning the loss and, perhaps more importantly, celebrating the life of our neighbor, friend, and hero to many of our school kids.
We will miss Principal Burden and thank you for your service to our community and your fine example for our kids. And we send along our thoughts and prayers for his family and dear friends.
We hope you will each comment and share your thoughts or memories to lift them up.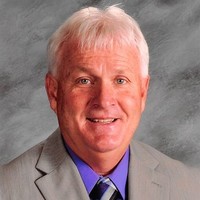 Obituary for Brian Burden:
Brian Kelly Burden was born December 3, 1967 to Kelly and Barbara Burden in Kansas City, Kansas.  He departed this life January 6, 2020 at the age of 52 years, 1 month and 3 days.
Brian spent his youth in Drumright where he was active in basketball, baseball and football.  A 1986 graduate of Drumright High School, he played on the 1986 State Champion baseball team.  He received his bachelor's degree from the University of Central Oklahoma where he earned a baseball scholarship and later received his master's degree from Southwestern Oklahoma State University.
On February 24, 1990, Brian Burden and Krista Cargill were united in marriage.  From this union were born two children, Kelsey and Blake.  His teaching and coaching career would take him to several parts of Oklahoma including, Yukon, Lindsay, Healdton, Cushing and finally Bristow where he served as the Bristow Middle School Principal.
Brian enjoyed vacationing with friends and family, spending time outdoors, and watching sports of any kind.   But most of all he loved spending time with his family.  He was an active member of the Oak Grove Baptist Church.
He is survived by his wife of 29 years, Krista Burden of the Bristow home; two children, Kelsey Burden of Cushing and Blake Burden of Yukon; mother, Barbara Burden of Bixby; two sisters, Shelly Goff and Melanie Osterhout both of Jenks; one brother, Pat Burden and wife Renee of Glenpool along with numerous nieces and nephews.  He is preceded in death by his father, Kelly Burden.
A Celebration of Life Service is scheduled for 11:00 am, Friday, January 10, 2020 at the Freeland Center of Performing Arts with Reverend George Brock III officiating. In lieu of flowers donations can be made to the Bristow Middle School, 10 Weatherwood Way, Bristow, Oklahoma 74010.
Link to Hutchins Maples Matherly Funeral Home:  OBIT snd Guest Book
Tweet