Brent Lee Jackson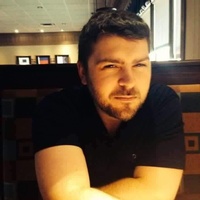 September 22, 1986 – July 30, 2018
Brent Lee Jackson was born September 22, 1986 to Randy and Diana (Shockley) Jackson in Tulsa, Oklahoma.  He departed this life July 30, 2018 at the age of 31 years 10 months and 8 days.
Brent was a 2005 graduate of Bristow High School.  He attended the University of Phoenix majoring in Cisco Cyber Security.  He was employed by AT&T.  On May 27, 2015, Brent Jackson and Billie Elkins were united in marriage.
Brent enjoyed anything dealing with electronics.  He especially loved playing on his X-Box.  He liked bowling and rock climbing as well.  Brent was most known as a family man who loved family activities.
He is survived by his wife, Billie Elkins of Bristow; four children, Lindsay West, Derek West, Andrew West and Paige Jackson all of Bristow; parents, Randy and Diana Jackson of Bristow; one sister, Kaylee Jackson of Bristow; Grandmother, Ellen Smith of Bristow; Grandfather, Dickie Jackson of Kiefer; Grandparents, Terry and Janie Duren of Bristow.  He was preceded in death by two grandfathers, Charles "Sim" Williams and Billie Shockley.
Visitation is scheduled for Wednesday, August 1, 2018 from 5:00PM – 8:00PM.  Funeral services are scheduled for 11:00AM, Thursday, August 2, 2018 at the Bristow First Church of God.
  Link to
Hutchins Maples Matherly Funeral Home
Tweet