Lavina Youngblood of Bristow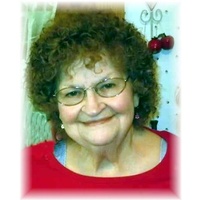 May 06, 1938 – December 23, 2017
Lavina Belle Youngblood was born May 6, 1938 to Raymond and Bessie Conner in Cedar Creek, Missouri.  She departed this life December 23, 2017 in Bristow, Oklahoma.
She attended public schools in Kirbyville, Missouri.  Lavina was attending a revival at the age of fifteen when she met the love of her life, Sherman Youngblood.  Four days later, on October 12, 1953 just before he was deployed to Korea, Sherman Youngblood and Lavina Conner were united in marriage.  From this union were born one son, Terry Leon and two daughters, Debbie and Cindy.
Lavina spent the next twenty-one years traveling with Sherman while he made his career in the US Army. They resided in many places, including France and Germany. When he retired from the service, they made their final home in Bristow, Oklahoma.
Lavina was a very spiritual person, who dearly loved Jesus.  She was known for her great sense of humor and her loving spirit.  Everyone that knew her had a genuine love for her.  She enjoyed sewing, quilting, shopping and listening to gospel music.  She loved pretty things, and had a flair for decorating her house in a Victorian style down to the last detail.
She is survived by her husband of 64 years, Sherman Youngblood of the Bristow home; two daughters, Debbie Blosser of Owasso, Oklahoma and Cindy Henson of Bristow, Oklahoma; one sister, Ruby Jean Carnelison of Sacramento, California; grandchildren, Corey Blosser and Kevin Blosser, Victoria Bundy, Misty Jones, and Terra Reynolds: and adopted daughter, Valeria Sconyers.  She was preceded in death by her parents, one son, Terry Leon Youngblood, two brothers, Billy Conner and Jimmy Conner, and her favorite son in law, Richard Blosser.
A memorial service will be scheduled in the near future and will be posted as soon as arrangements are completed.
http://www.hutchinsmaplesfuneralhome.com/obituary/lavina-youngblood
Tweet