Norma Jean Chadderdon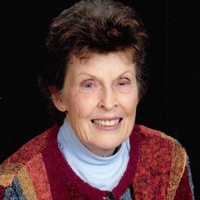 July 27, 1926 – July 26, 2017
Born in Springfield, Missouri on July 27, 1926 to Elburn and Opal Wallace, Norma Jean moved from Marshfield, Missouri to Bristow, Oklahoma in early 1931.  A graduate of Bristow High School (1944), she went on to attend Drury College and the University of Oklahoma.  She was married in 1946 to Robert Gridley Chadderdon (BHS 1940) for seventy wonderful years.  After living in Texas, Colorado and Connecticut, they ultimately decided to return to their roots in Bristow after almost forty years.  Together they were quietly, mostly anonymously, responsible for many philanthropic projects and programs.  They were instrumental in initiating and funding the project that saved, conceptualized and renovated the Bristow Train Depot and Town Square.  Norma Jean helped spearhead the creation of the Bristow Historical Society, its newsletter, and museum.  She was a member of the Bristow Hospital Board, PEO, and the Bristow First United Methodist Church.
Norma Jean died July 26, 2017.  She is survived by three children, Robert Steele Chadderdon, Lynn Chadderdon and Krean Kope; seven grandchildren and four great-grandchildren.
The purity of Norma Jean's profound goodness and gracious kindness reflected a philosophy of having accepted her life as a true gift and a great joy.  She treated its consequences and everyone she touched with an inner happiness that warmly embraced that perspective and so clearly defined the remarkable attractiveness of her beautiful persona and spirit.  She will be deeply missed and forever remembered with great love.
 At her request, no services will be held.
Donations, in memory of Norma Jean, can be made for CAA research (Cerebral Amyloid Angiopathy) at www.angiopathy.org.  Follow instructions in the "support" section to make a gift.
http://www.hutchinsmaplesfuneralhome.com/obituary/norma-chadderdon
Tweet