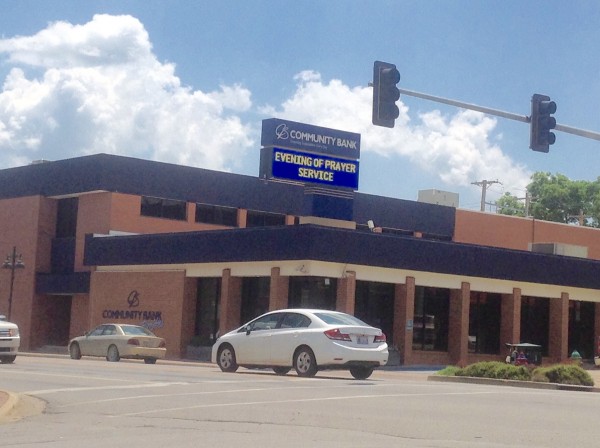 Community Bank has proudly served our community since 1924, having weathered the "Great Depression" and the "Banking Crisis of the 80's". In these days of mergers and acquisitions, we think Community Bank is different. We are a stand-alone bank dedicated to the community we serve, not a branch of a distant corporation. All of our decision-makers come to work every day in Bristow; there is no lengthy approval process in other cities or states.
Call us a little "Old Fashioned" if you will, but we don't think our customers should waste their time standing in lines, and you'll get to talk to a real "live" person when you call Community Bank.
Community Bank, "Exceeding Expectations Every Day!"
Every employee of Community Bank is committed to exceeding your expectations every day. As a strong committed local bank, we are dedicated to providing not only the best possible banking services, but also the highest levels of excellence each and every time we serve you whether it is by phone, in person, or via your computer. We sincerely thank you for your business and look forward to serving you for many years to come.
Sincerely,


W. David Roberts
President
COMMUNITY BANK SERVICES:
24 Hour Access
Telebank
Private, easy, and convenient banking from your touchtone telephone. All you need is your social security/tax ID number and your security code. Please call (918) 581-1587(PLUS).
Checking Balances and History
Savings Balances and History
C.D.
Loan
Fund Transfers
TeleWeb
Bank with a Web Browser from any Personal computer. All activity is personal, confidential, and completely secured.
Account Balances and Historical Information
Fund Transfers and Loan Payments
Pending ACH and Auto Debit Transactions
Preliminary Loan Applications
Calculators
Much More
ATM
Located at our Drive-In at 317 South Main, Bristow
24 Hour Access
Worldwide service through the Transfund Network
To report a lost or stolen debit/ATM card please call (918) 367-3343.  During non-banking hours please call Transfund at 1-800-791-2525.
Loans
Community Bank offers a wide variety of financing options to help you with those times in your life – and those things in your life that may require some extra cash. At Community Bank you'll receive a competitive interest rate and a variety of repayment options to choose from. Our loan officers will work with you to find the right loan to fit your needs.
We pride ourselves in customer service due to our quick response time to loan applications. We also offer the convenience of auto draft from your account for loan payments. We encourage you to contact one of our loan officers for more information, please click here with your questions, or call 918-367-3343.
Safe Deposit Boxes
Safe deposit boxes are available at our 104 South Main location, and are available in a variety of sizes. Please contact new accounts at (918) 367-3343 for more information.
Tweet