Charming, relaxing guest house available for rental in Bristow Oklahoma.
Everything but the kitchen sink!
The Happy Hermit is located 3.5 miles NW of Bristow, The Little House was built when 2 families blended & extra bedrooms were needed. It sits in the back yard of our main house & consists of 4 rooms/1 bath. This is NOT a FULL home. Although wifi & satellite aren't provided, guests may connect their devices using their own hotspot services. Explore nature. Star gaze. Enjoy coffee on the covered front porch. Observe the birds. Peaceful country living. Breakfast not included; coffee/water/microwave and small fridge available in Kitchenette.
About your host: Lori:
"I'm the office manager at a business where we offer Reiki & spiritual development classes, plus sell crystals, incense, sage and more. I surround myself with friends & family that support one another and LAUGH, often. My favorite memory this last year was when our oldest daughter got married on our property… it was a "Hallowedding"! Everyone dressed in costumes and I officiated (which meant I could say whatever I wanted and no one could stop me! {*insert maniacal laughter*}). In my spare time I enjoy "Family Bonding Time" (i.e., playing board games with my family) & creating "to do" lists for my husband; yoga, meditation and adding color to any stationary object near me. When time permits, I enjoy throwin' clay on my pottery wheel."
From our first guest review: "The place was beautiful, clean, and the decor was awesome. It is a nice relaxing retreat from city life and it is a great outdoor space for kids. Our 3 year old son loved it. The host Lori and her family were so friendly and hospitable. We plan on coming back!!!"
For pricing, reservations and additional info, please check out our Airbnb profile page HERE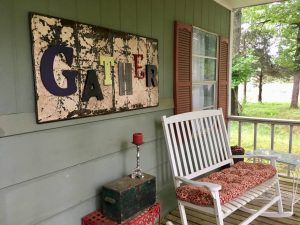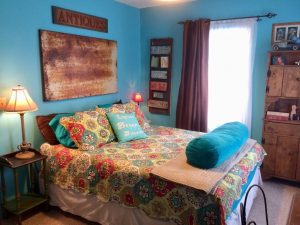 Tweet